Love Your Body Day
Love Your Body Day was a huge success at High Point University! Campus wide participation was seen throughout the day at all events. Starting off the day right, we featured our Yoga for Yogurt event. After enjoying a challenging, but relaxing yoga session on the Slane gym floor, participants and passerbyers got to enjoy a delicious yogurt bar. The yogurt bar featured fresh, delicious berries as well as  organic Stonyfield Yogurt. The best part? You can find Stonyfield and similar fresh toppings at the Parfait station in the Cafe every day!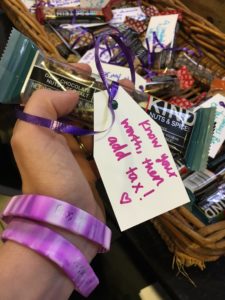 After refueling with the yogurt bar, it was time was the Kind for Kind event! We had Kind Bar reps stop by the Slane Philanthropy table to help had out samples and pass on kind notes. The deal was in order to get a Kind Bar, you had to write a kind note for someone else. A free Kind Bar and a positive note, does it get any better? Answer: Yes, it does! While this event was going on we also were asking students to pledge to Love Your Body in one of 10 different ways. Students would sign an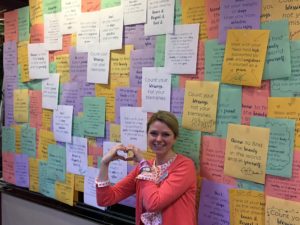 d draw a design on their pledge paper, then we would attache them to the mirror behind the table. The goal was to cover the entire mirror and we surpassed it!! Our campus Dietitian, Allyson West,  really drove the positive message and meaning behind the day's events. She also held a Mindful Eating event where she gave out Mindful Eating notebooks and handouts to stress how good, healthy food is a way to Love Your Body.
Finally, we ended the busy day with an evening Zumba session. Students were able to cut loose in Zumba after a long day of Mid-Terms. We're thankful to all of you for your participation in all events! We plan on making Love Your Body Day even bigger next year! Remember to Love Your Body all year round!