"A Taste of Thanksgiving"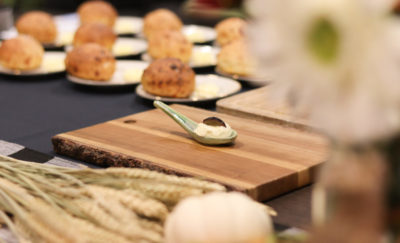 On Thursday, October 28th HPU dining hosted its student favorite, Farm to Fork dinner. This exclusive dinner was done by the talented head chefs Brandon Rudisill and Jeremy Joy of the HPU dining program. Twelve lucky students joined our chefs in the Farmers Market for a five-star, five-course dinner. While the food is great, to Chef Brandon, it means so much more. He stated, "The purpose behind Farm to Fork is to cook from nostalgia;" the goal behind his food is to be able to modernize meals of old generations. Each dish is meant to get people out of their comfort zone and expose them to innovative ideas. Both Chefs have a vast knowledge of the different cooking techniques which leads to incredibly unique dishes. Bringing out the flavors of fall, our chefs prepared the five-course meal right in front of the students while explaining to them the process and answering any questions they may have. One thing that makes Farm to Fork so special is that 95% of the meal was sourced locally. To put it in perspective, even the plates and bowls that students ate off were handmade in Hubert, North Carolina by Moving Mud Pottery.
To begin, the first course was an Amuse Bouche which consisted of a roasted corn pudding with pickled muscadine; following this, students were greeted with their appetizer, a delicata squash bisque with delicata seed brittle and sage cream; the soup was poured tableside. Upon their first taste, one of the students described the soup as "fall in a bowl." The brittle brought texture to the soup while the sage cream provided a balance to the sweet delicata squash. Once students were finished with their soup, the chefs moved on to the main course. Described as "A taste of Thanksgiving" by Chef Jeremy, students were served a stuffed sopressetta turkey roulade with sweet potato gnocchi, roasted brussels sprouts, and a wild mushroom velouté. The turkey was cooked sous-vide which made it very tender; to quote one of the students, "the turkey was melting in my mouth." As plates were polished, students waited in awe for dessert. Described by one student as "the best part of the dinner," Chefs Brandon and Jeremy plated a persimmon custard with crystallized ginger syrup and persimmon sorbet. This dish took students breaths away with the perfect balance of spices and sweetness with even a hint of citrus.
It is safe to say that this Farm to Fork was one to remember. If you would like the opportunity to come to a Farm to Fork in the future, please follow HPU Dining on social media to stay up to date with all the events we have planned in the future.