Bringing the Freshness of the Farm to your Fork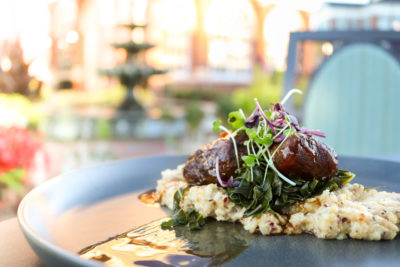 HPU Dining continues to deliver a memorable and extraordinary dining experience to its students through the art of culinary cuisine. In collaboration with local farms in the area, our chefs were able to tell a unique story at our Farm to Fork event. Ten High Point students gathered at the Butterfly Cafe and enjoyed a unique socially distant dinner.
Students enjoy the five-course meal our chefs, Brandon and Jason, who served various dishes created using locally sourced ingredients for the various dishes that were served. Students began their dinner with Spiced Cranberry Granita, followed by a farm-fresh Butternut Squash bisque. The meal continued with a Heritage Pork Cheek and a locally sourced Charcuterie platter consisting of various meats, cheeses, and grapes. Along with individually decorated tables and the setting sun, this dinner was truly a spectacular culinary masterpiece.
Be sure to follow our Instagram page for future Farm to Fork events in the future.