Chef Highlights at HPU Dining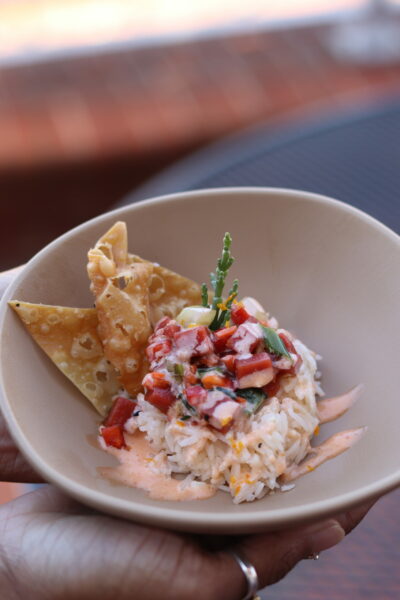 High Point University's Dining Program prides itself on having a strong team dedicated to the art of cooking! Our culinary talent has a rich collective background in the art of creating delicious masterpieces. From places near and far, we all come together to provide a fantastic culinary experience with HPU. 
This semester, we made it our mission to show off our chefs' unique culinary talents! On select Tuesdays, we hosted culinary takeovers at the Slane Café where several of our chefs had the opportunity to serve students a delicious dish of their choosing!  Chef Haney served up some delicious lobster rolls in honor of his home state of Maine. Chef Michael turned up the heat with a spicy and savory Colorado-style chili with jalapeno cornbread that wowed guests. Chef Jeremy put together a yummy and innovative vegan poke bowl with a sea bean garnish that was both healthy and satisfying! Chef John's takeover featured House-made cavatelli pasta with heirloom tomato pancetta sauce topped with baby arugula as well as a house-made cavatelli pasta tossed in a parmesan wheel topped with pumpkin seed gremolata. Chef Bob presented poutine, Reuben, and chili cheese tater tots for guests to enjoy. Chef Reggie created a Korean pork belly dish with chimichurri sauce, saffron polenta, with a garnish of shaved radishes. Last but not least, Chef Steven served smoked cauliflower and chicken wings with several different sauces, including Buffalo Garlic, Jamaican Jerk BBQ, and Mango Habanero. Chef Steven also hosted several Grill Outs at the Slane patio, featuring delicious items like Carne Asada Street Tacos, Peruvian Chicken and Rice, and Jamaican Jerk Chicken, Peas & Rice, Mango Salad, and Sweet Plantains! Our staff at HPU Dining put in tremendous effort this semester and it truly paid off. We're excited to continue providing students and guests with an excellent dining experience at High Point University!