Earth Day Expo at HPU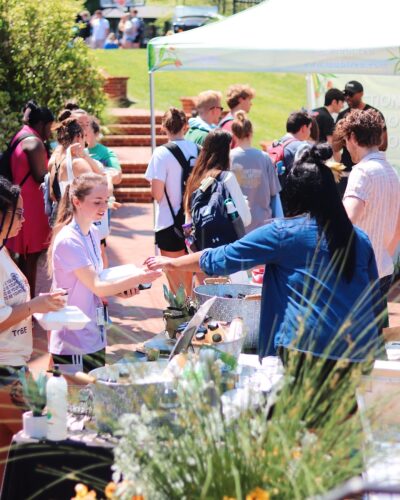 On Friday, April 28th Harvest Table Culinary Group participated in High Point University's student-favorite event, the annual Earth Day Expo. This event was packed with fun & flavorful campus favorites with features from our local partners: Joyce Farms, Petit Green Giants, The Mushroom Meat Company, Vernon's Produce, and more!  
The HPU Earth Day Expo ran from 11 AM to 1PM at Hayworth Park, where students were greeted by friendly vendors and treated to smoked wings, roasted corn, fresh fruit, microgreens, and tons of other delicious treats to choose from. Bucket hats, T-shirts, and other HPU merchandise were also given out to spread the Panther Spirit. Students were excited to see that Twiggy the Squirrel was making a comeback along with his sibling, Twiglet, as they both took to the water and skied by Fire Island!  
Harvest Table Culinary Group served many delectable dishes for students to enjoy. Chef Steven served up some tasty chicken mole enmoladas using local partner Joyce Farms smoked chicken, pickled red onions and radish from Wise Farms, chopped local asparagus and heirloom tomato salad from Cherry Hill Farm, and samphire chimichurri dressing from Walter P Rawl Farm. There were also earth-themed cupcakes, cookies, candy, and "Dirt Cups" made of chocolate mousse with a garnish of Oreo crumbles and gummy worms.    
High Point University's faculty, staff, and students celebrate Earth Day every year with sustainability and wildlife organizations from around the community. The goal of HPU's Earth Day Expo is to spread the word to our students about environmentalism and the various local sustainability-conscious organizations that they have access to.