Fruity Pineapple Bowl Pop-Up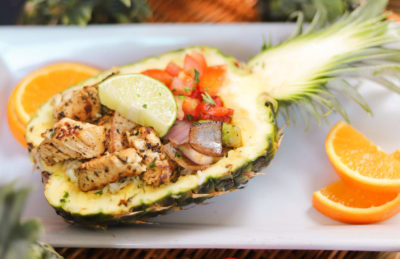 On Friday, at the Butterfly Cafe, HPU dining hosted a fruity pineapple bowl pop-up. This sample dish incorporated the sweet and acidic flavors of the pineapple fruit-filled within chicken and vegetables for all students to be able to enjoy.
The Butterfly Cafe incorporated this tropical fruit by using it as a bowl to house flavorful chicken and vegetables cooked in flavorful spices topped over a fresh bed of white rice and garnished with a little lime. The bowl was assembled with fresh onions, peppers that were seasoned and cooked to perfection by our own Chef Brandon.
Each made from scratch bowl was carefully crafted to appeal to your eyes and tongue.
Students got to have a flavorful experience that left a lasting impression that will not be forgotten. 
Be sure to check your email for more future pop-up opportunities!