HPU Dining Chefs to take the Certified Executive Chef Practical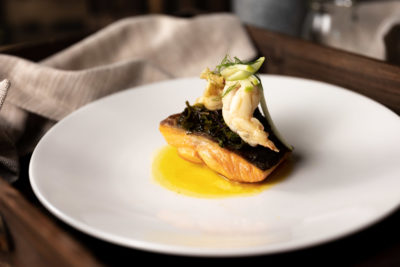 Our culinary team at High Point University Dining have been working on something exciting behind the scenes; Chef Rudisill, Chef Colunio, Chef Joy and Chef Dunbar are each working diligently on becoming a Certified Executive Chef® through the American Culinary Federation. In addition to five years as a chef de cuisine, executive sous chef or chef in charge of food production, each Chef must complete coursework in Nutrition, Food Safety and Sanitation, Supervisory, Beverage and Cost Control Management.
Chef Rudisill shared, "The CEC process with the ACF is a privilege and an incredible experience that I have managed to be involved in as a chef with Harvest Table. The choice to take on this endeavor and the dedication it entails make's it all worth it by working alongside with such passionate chefs and the opportunity to gain the prestigious title of Certified Executive Chef." Rudisill describes taking the CEC course as a "stepping-stone" in his career. This course will enable Rudisill to continue to hone the skills that he has gained during his time in his culinary arts career, while also allowing him to train and pass his craft along to fellow culinarians.
On December 13th, the culinary brigade headed to Elon University to take part of a training that will better prepare the Chefs for their practical exam. "The first practice we attended this past Monday was daunting going into the program, but I got into the flow of the timeline and getting my three courses prepped and finished in our three-hour window. The comradery of our team in the kitchen was a great driver and motivating each other to push and get the vision from pan to plate was infectious and the energy was epic! Reviews on the first go round gave me the confidence in my choice of menu and ingredients along with excellent notes on changes and suggestions from Chef Thompson and Chef Froelich" Rudisill shared.