Students Sample Healthy Holiday Dishes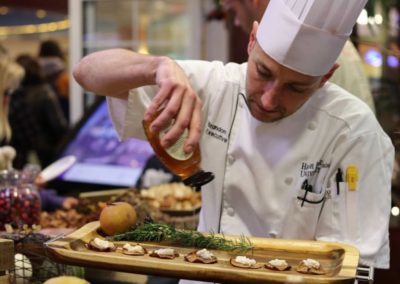 On Thursday, students stopped by and sampled some healthy holiday-themed food items created by our Executive Chef Brandon. HPU's very own Dietitian, Allyson West explained that these different food options are a great and tasty way to substitute other holiday dishes for fresher and healthier options. Students enjoyed sampling some of the delicious dishes such as the Honey Glazed Pear & Ricotta and the Butternut Squash & Grape Crostini. Anyone wishing to recreate these dishes this holiday season can use the recipes located below.
Butternut Squash and Grape Crostini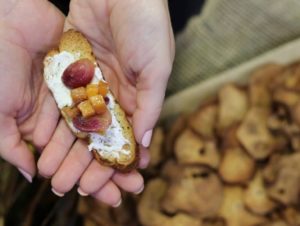 Yield: 12 portions
Ingredients
2 cups butternut squash, 1/8 inch cubes
2 cups grapes
½ cup diced shallot
1 tbsp olive oil
1 whole-grain baguette
3 ounces goat cheese
1 tsp chopped fresh herbs, rosemary, thyme, sage
1 tbsp honey, plus 1 tsp more for garnishing
1/2 tsp salt
¼ tsp pepper
Instructions
-Preheat oven to 400 degrees. Cut the butternut squash into small cubes and break apart grapes into clusters. Toss butternut squash with olive oil and half of the herbs and ¼ tsp of salt and a pinch of pepper. Spread out onto the baking sheet and bake for 10 minutes. Add grapes and shallots (drizzled in olive oil) and continue to bake 10-12 minutes.
–Combine the goat cheese with the remaining herbs, salt, and honey.
-Slice baguette into 1/4 inch thick rounds on a bias.  Spread goat cheese mixture onto the rounds. Top with squash and grapes, then, drizzle with extra honey.
Pear with Housemade Ricotta and Honey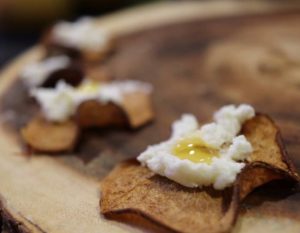 Yield: 18 portions
Ingredients
1 small under-ripe Pear (such as a Bartlett)
4 cups 2% fat milk
½ tsp salt
1 tbsp fresh lemon juice
¼ cup Honey
Instructions
For the Pears:
Very thinly slice pears lengthwise with a mandolin or chef's knife and place in a single layer on parchment-lined baking sheets. Bake in a preheated 225 degrees oven 1 1/2 hours. Flip slices and continue baking until darkened slightly and edges have curled (they should still be pliable), 1 to 1 1/2 hours. Transfer to a wire rack and let stand until cool and crisp. Store at room temperature in an airtight container for up to 1 week.
For the Ricotta:
Line fine-mesh sieve with a layer of heavy-duty cheesecloth and place it over a large bowl. Slowly bring milk, cream, and salt to a rolling boil in a 6 qt heavy duty pot under moderate heat stirring occasionally to prevent scorching. Add lemon juice, then reduce heat to a low simmer, stirring constantly, until the mixture curdles, 2 minutes. Pour the mixture into the lined sieve and let it drain for 1 hour. After discarding the liquid, chill, and reserve the ricotta in the refrigerator for up to 2 days.
Assembly
Top one slice of dried pear with 1 tsp of ricotta and drizzle with honey- serve immediately so pear doesn't become soggy