The Tastes and Talents of the Year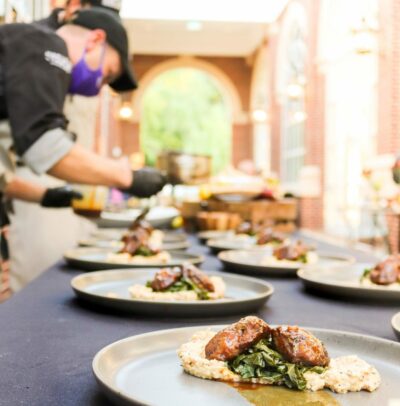 As the school year wraps up and students begin to head back home. We would like to take this time to reflect on an incredible year we've had at HPU Dining.
One of the biggest highlights of the year was the opening of the Butterfly Café located in the Caine Conservatory. Serving Mediterranean-inspired dishes and our partners Carolina Coffee and Gnam Gnam Gelato, The Butterfly Café has been well received amongst our students. Students have also enjoyed the ambiance environment of the restaurant and have students wanting to come back for more every day along with our new dining location; we also introduced some further details regarding the new Qubein arena, hotel, and conference center, including preview events that gave students a taste of the culinary experiences they will enjoy in the fall. One of the most popular events of the year this year was the Farm to Fork dinners. Our culinary chefs showed off their talents and skills by creating five-star level dishes with a commitment to locally sourced products and healthy and delicious dishes. 
We hope that our students had a fantastic school year. We are looking forward to serving you again in the fall.