This Fall in Dining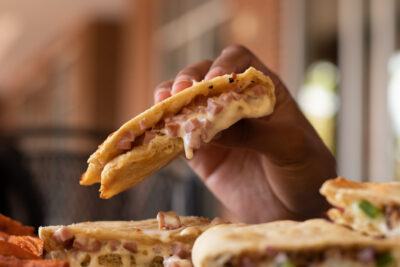 High Point University Dining worked diligently this summer on revamping menu concepts, sustainability efforts and Fall events in dining. Some notable dining locations on campus feature new menu offerings such as the Butterfly Café with "The Greek Gyro," the return of Flatizzas at Great Day Bakery and tempting Calzones at The Point. Some locations are rolling out new station concepts such as The Farmers Market in Wanek; The Farmers Market got a makeover and is now featuring a flat top grill that will allow guests to have fresh, seasonal vegetables sautéed to order from the Farmacy station.
Say hello to reusable Green To-Go boxes and adios to our compostable boxes. In an effort to reduce our carbon footprint here at High Point University, Green To-Go boxes are being introduced at our residential dining locations this Fall. Each student received a token upon arrival to campus that can be used to receive a reusable to-go box upon visiting The Café or The Farmers Market. Once finished with your meal, simply give the box a quick rinse, return it to the bin located by our cashiers and receive another token that can be used in future visits. At this time, we will continue to provide guests with compostable containers for side items, soups and sweet treats.
Kicking off fall semester, your dining team will be hosting our annual "Welcome Home" event on September 7th, near "fire island" as some may call it, from 10am – 2pm. We'll be featuring local partners, games, food and swag giveaways, so stop by on your way to or from lunch to hang out for a bit! This October, we will be rolling out our annual Dining Styles survey. Dining Styles allows us to have a glimpse into guest satisfaction and find new ways to improve our dining program. For the past eleven years, we have had the honor of ranking number one in Dining Styles and more recently ranked Top 20 on The Princeton Review for "Best Campus Food."
We believe that food tells a story and we can't wait to see what this chapter has in store for us this Fall.