Tim bakes a Student Favorite Event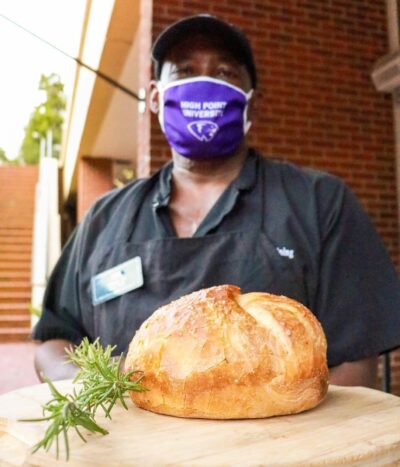 HPU Dining always enjoys serving our students through our Pop-Up Events. On Wednesday, one of HPU student's favorite events made its return to the Slane Student Center. HPU Dining's own on-campus baker Tim made from scratch a variety of breads and spreads for students to taste. All of the breads and spreads at the event were made by Tim and other HPU Dining chefs from scratch. Some of the featured breads that students were able to try included Russian, Rye, Garlic Herb, Focaccia, and Tim's signature 5 Color Rye. Tim and the HPU Dining chefs also made a variety of spreads to complement the bread including Rosemary Olive Oil, Garlic Olive Oil, Goat Cheese, and Red Clay Pimento Cheese.
Tim is responsible for the majority of desserts and baked goods offered in the Café every day. Be sure to stop by and give them a try!